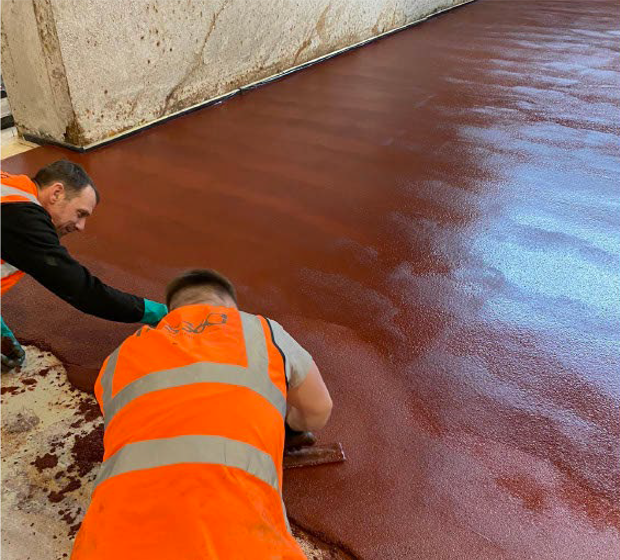 The total size of the resin area was 1,000m2 and the project took three months. The products used were:
– For the screed – Master Builders MasterEmaco – a fluid fast-setting traffic repair mortar;
– For the primer – Master Builders Ucrete Primer FS – a heavy duty polyurethane fast slurry primer for Ucrete flooring systems;
– For the finish – Master Builders Ucrete IF.
The detail of the work included thorough cleaning prior to commencement, breaking out of defective concrete and rebar, returning the concrete to its original levels using MasterEmaco, preparing the newly installed substrate using HTC planetary grinders, applying a hard wearing screed topping as a primer (Ucrete Primer FS), the installation of Ucrete IF as the tough upper resin coating, and finally sealing all joints.
Ucrete IF is a unique HD polyurethane resin floor which provides an extremely tough surface for environments subject to extreme impact and abrasion. It features a dense and impervious iron-armoured surface, which provides protection against severe abrasion, making it the ideal floor finish for applications in the waste management, heavy engineering and manufacturing industries and wherever a robust long lived floor is required.
"On the Viridor Recycling & Waste Management Plant we were able to demonstrate firstly how we can provide a total project management solution on a site such as this, liaising with the client and managing all other trades on-site, ensuring that the facility could remain fully operational during the works," says Gavin Ashcroft, Sales Director (South Wales & West).

"Secondly it is a showcase for the most heavy duty resin flooring systems, demonstrating how an iron-armoured polyurethane resin system can provide a good solution in the most demanding and aggressive of environments."